In Ireland the 'rack and bag' method is the most common method of oyster cultivation.
The young oysters are placed in grow-out bags secured on steel trestles or 'Rebar Racks' on the intertidal zone of the shore. This lifts the bags off the ocean floor and allows the water to flow around them helping them to grow faster and keeping them away from predators like crabs and birds.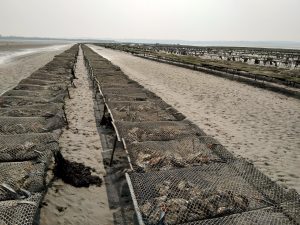 While submerged the oysters turn with the tides. At low tide the farmer is able to access the trestles to turn the bags. This regular flipping prevents fouling building up on the bags and stops the oysters from growing into the bags and one another. The rack and bag method of growing is widely used in Ireland, the UK and in Northern France.

When ordering trestles for your oyster farm you should consider the following:
The diameter of the rebar – both 20MM and 16MM diameter steel is available.
The height of the trestle – usually they stand between 60CM and 1M high but this will depend on their position on the shore and tides. They need to be at a safe and comfortable height to work at.
The number of bars: 2 or 3? How strong does the trestle need to be?
The length of the trestle. Are you planning for a 5 or 6 bag run? What works best with the layout of your site?
Folded feet or straight legs – consider the sand on your site, if it is very soft folded feet will stop the trestle from sinking into the ground.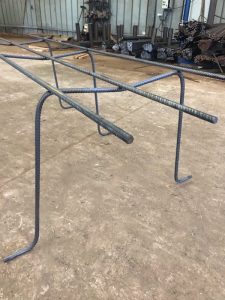 Call us today to discuss ordering oyster trestles for your site. Did you know that trestle joining tubes are available to allow you to fit even more bags onto your runs?