Description
Triskell Seafood Stainless Steel Oyster Hooks | 3.5MM (suitable for 6-14MM bags)
Available  for order by full pallet only (60 boxes/1000 hooks per box)
Triskell Stainless Steel Hooks are manufactured here in Ireland. They are used in association with bands to secure your oyster bags. The bands fit quickly and easily to the open eye of the hook.
The hooks are made from highest quality marine-standard stainless steel to ensure that they remain rust-free years after they are put into the water.
They are suitable for 6-14MM mesh sizes.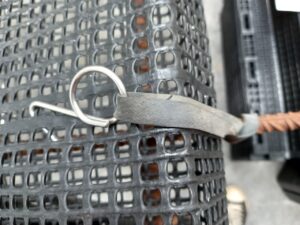 A full selection of our marine hooks can be found in Oyster Bag Accessories and a discussion of the pros and cons for each hook available is on our blog.
Looking for clips for shrimp pots? These hooks are perfect for that too!
Leave a review for this product.