Description
Can be ordered as part of a mixed pallet
INFINITY CLIPS for the AP6 Plus Aquapurse 
The Aquapurse is a six-sided oyster basket from INTERMAS and features one piece moulding – it simply folds and clips together so no other assembly is needed.
The clips to hang it are sold separately. Two clips are needed per purse to attach them securely. They can be used with both trestles or long lines. When attached to trestles they are usually clipped onto a 10mm stainless steel rod which has been welded to the trestle (see photo).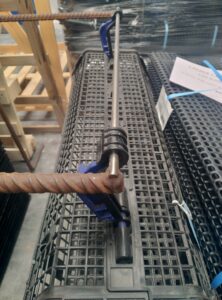 The same size clip will work on both 8 and 16MM purses.
Made of polypropylene with a UV additive to stabilize and extend the clip lifespan.
The Infinity Clip allows the AP6 basket to move with the current and ensures that your oysters are regularly turned.
Leave a review for this product.