Triskell Seafood Ltd would like to confirm to our customers and suppliers that we are still fully operational despite the various restrictions in place due to the coronavirus pandemic.
18/05/20
DAFM Site Inspections
The Marine Engineering Division (MED) carries out annual inspections at inland and marine finfish sites, as well as inspecting locations of existing and proposed aquaculture sites as part of the aquaculture application/renewal process and responding to reports of incidents/complaints on particular sites as they arise.
The Department of Agriculture, Food & the Marine (DAFM) have announced that the 'Marine Engineering Division intends to recommence inspecting intertidal aquaculture sites from 18th May 2020 and inland and subtidal/offshore sites from 8th June 2020, subject to compliance with COVID-19 guidance. MED staff will undertake a risk assessment in advance of site inspections and contact operators in advance to ensure that there are no issues with COVID-19 and visitor policies which may be in place at these sites.'
European Aquaculture Society Covid-19 Survey
The European Aquaculture Society (EAS) are requesting European aquaculture producers to take part in a short survey to assess the effects of Covid-19.
Information gathered by the European Aquaculture Society could be of benefit in raising continued awareness at EU level of the effects of Covid-19 on the Irish aquaculture sector. the survey is anonymous and will run until the end of May. Please take a moment to complete the survey as your responses are crucial information for those who make the policy that affect us all.
https://corexmshtfshc772yn8y.fra1.qualtrics.com/jfe/form/SV_5arn0NeVMwDm26F
24/04/20
The IFA are calling for Minister Creed to implement immediately the support measures agreed in Europe recently. Funds available through the European Maritime and Fisheries Fund (EMFF) should be used to support Aquaculture farmers and processors who are suffering financial losses as a result of the collapse of the market for shellfish.
03/04/20
Irish aquaculture is experiencing a severe and unexpected impact due to the COVID-19 pandemic with market closures and disturbances having an unprecedented level of disruption.
The IFA is seeking the adoption of urgent, powerful and extraordinary measures at Government and EU Commission level to prevent the COVID- 19 emergency from having irreversible negative impacts on the normal operation of Irish aquaculture. In particular to allow the flexibility for EMFF funds to be redirected and distributed as financial aid for the Irish aquaculture industry to assist them to deal with the COVID-19 crisis.
In an effort to assess the financial losses, IFA Aquaculture is seeking details from all IFA Aquaculture members in order to strengthen our case for the need of a financial package required for the sector to deal with the crisis – your co-operation with this will be appreciated.
The form, which is available to download here, seeks details of quarterly turnover over the past 2 years (2018/2019) and the first quarter of 2020, as well the predicted quarterly turnover for the remaining 3 quarters of 2020.
Teresa Morrissey is asking all IFA Aquaculture to complete the form and return it to her by email teresamorrissey@ifa.ie
01/04/20
In relation to Fish Health related services provided by the Marine Institute, please note the following:
Mortality reports for both fish and shellfish should continue to be reported to the Fish Health Unit as normal through the usual channels.
Applications for movements of fish and shellfish should continue to be submitted as normal by aquaculture producers by using the Fish Health Unit online application system.
Routine health surveillance inspections conducted by the Marine Institute have been suspended until further notice.
Provision of export certification by the Fish Health Unit continues as normal including pre-certification inspections.
Shellfish Samples: In view of the possible disruption to services in general due to the Covid-19 outbreak, shellfish samples submitted for biotoxin analysis should only be submitted by producers harvesting or intending to harvest in the immediate future. Producers not harvesting shellfish should cease submitting biotoxin shellfish samples for the moment.
The Fish Health Unit Laboratories remain open and continue to process samples. However, in the current situation where there may at times be reduced capacity, it is critical that laboratories are consulted prior to submission of samples to ensure efficient laboratory operations.
It should be noted working arrangements due to COVID-19 may occasionally result in delayed in response times by the Fish Health Unit. Therefore, applications for movements of aquatic animals should be made as early as possible in advance of the movement date.
COVID-19 is an evolving situation and any changes to the FHU operations and procedures will updated on the Fish Health Unit website as they occur https://www.fishhealth.ie/fhu/. Requests for further information are directed to fishhealth@marine.ie
The Government has also detailed its 'COVID-19 Supports for the Seafood Sector' which is available here.
30/03/20
Aquaculture has been designated an 'essential service' by the Irish Government and can continue to operate. This means that as growers you are encouraged to continue to go on-shore and (safely) work your sites. A full list of essential service providers under new public health guidelines is available on the government website.
IFA (Aquaculture)
The Irish Farmers' Association​ has launched a useful website this week which will be updated regularly with farmer-specific (which applies to Aquaculture also), Covid-19 information on key issues. They are advising Farmers and Growers to create a 'Plan B'. The Plan should include any essential information that would be needed where someone else has to step in to run the farm in the event you contract Covid-19, or have to go into social isolation.
Following on from the restrictions on movement introduced on March 27th all employees who need to travel to work will need a letter from you as an employer to confirm that they are unable to work remotely. The IFA have a useful template for this letter available on their site which you can fill in and issue to each employee. Employees should travel with valid ID and a copy of this letter.
The full range of IFA supports can be found at https://www.ifa.ie/COVID19/
Biotoxin Samples
The SFPA have notified us that for the moment shellfish samples submitted for biotoxin analysis should only be submitted by producers harvesting or intending to harvest in the immediate future. If you have no plans to harvest then you should not submit samples.
They have also announced that only samples received by courier or post will be accepted, no more hand deliveries please. Producers not harvesting should cease submitting biotoxin shellfish samples for the moment.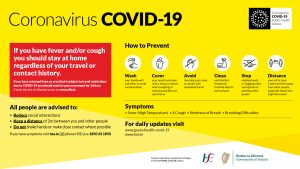 Triskell Seafood are here to support you as much as possible with advice, seed, equipment and clothing, and we continue to trade seafood as far as is possible. Be assured that we are taking all the necessary precautionary measures we can within our warehouse to ensure that you have the essential tools you need to carry on your business.
We're in this together and we'll get through this together. Call us if we can help.