Our new Seafood-Customer Sales Portal is getting noticed!
In an article in The Marine Times Newspaper this month we get to introduce our new Sales Portal to the fishing community.
Sligo-based Seafood Traders Triskell Seafood Ltd have announced this month that their new Online Shellfish Sales Portal is live. They are inviting growers across the country to get in touch and get involved!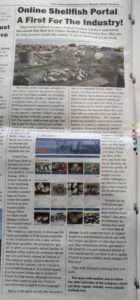 You can read the full article on The Marine Times website.
Click to view our new Seafood-Customer Portal online.
If you would like to have your produce listed for sale through the portal free of charge then call or whatsapp us on +353 (0)87 6050281 or email us at info@triskellseafood.com.