BIM organised a webinar on 27/10/22 to remind Aquaculture Industry members that the Single-Use Plastics Directive (SUP) has not gone away and is going to have massive ramifications for all of us involved in fishing, shellfish farming, seaweed producers and even those involved in fishing at a recreational level.
The webinar was hosted by Catherine Bennett of BIM with contributions from two expert advisors who are on board to assist in the implementation of the Directive; Rod Cappell and Geoff Dooley
BIM will be organising a follow-up face to face Meeting on 30th November in Ballybofey, Co Donegal and we will share a link to register for that event once it is available. We would recommend as many people as possible attend on the day.
The background to the Directive is that 80-85% of marine waste is plastic and of that 27% is fishing gear. There is no distinction in the directive between plastics imported for professional or recreational use.
The SUP directive has three main aims that are relevant to gear suppliers:
The monitoring and reporting on and off the market of fishing and aquaculture gear
The development of a standard for the circular design of fishing and aquaculture gear
The implementation of an Extended Producer Responsibility scheme for fishing and aquaculture gear in Ireland by 31 Dec 2024
The first reporting period is 2022 (and then every calendar year). We have until July 2024 to report figures for 2022 to the Commission.
Extended Producer Responsibility Scheme
An 'Extended Producer Responsibility Scheme' or EPR must be established by the end of 2023 and anyone producing must be able to prove that they are a member of such a scheme by 21 Dec 2024 in order to be compliant under the legislation. These schemes are based on the 'producer pays' principle and so producers will have to cover costs of (for instance) – data gathering / waste management / administration costs / collecting materials & their treatment.
Within the context of the SUP, what is a producer?
With regard to this directive , the definition of " producer' is  any natural or legal person established in a Member State, another Member State or Third Country that professionally manufactures, fills, sells or imports, irrespective of the selling technique used, including by means of distance contracts…and places on the market of that Member State  …fishing  or aquaculture gear containing plastic, other than persons carrying out fishing activities as defined [as a fisher in the CFP).
However, if that person ( fisher or farmer) directly imports his own gear, BIM suggests that that person could be considered a producer as that gear is still being placed on the market and will in time come off the market here in Ireland. To date BIM has identified 44 producers in Ireland who satisfy this criteria however this is only an initial list and there are certainly more than this who qualify under this description.
What is crucial at this early stage in discussions is not to create a situation where the market is disrupted, or to inadvertently create an unlevel playing field where some producers are carrying the burden of the new requirements. Everyone needs to be involved, including those people who import their equipment directly.  It is likely that just as there are different sizes of businesses affected so too should the EPR have different levels or grades of membership depending on the amount of material they import.
Generally speaking to get started we need to identify:
Who is supplying the Irish Market?
What is being supplied?
What is the weight of material?
What is being taken off the market, and how?
The Commission is focused on the development of a circular business model for the Industry. Currently the disposal of end-of-life gear is not considered in it's design. In a circular business model the product; it's component materials; and it's ultimate disposal will all be considered at the design stage. While we have all heard of the mantra 'Reduce, Re-Use, Recycle', the reality is that enough recycling is being done and the amount of waste created continues to grow. That waste is ending up in our oceans
The meeting on the 30th November in Donegal is being held to discuss the following items:
Work is currently being done on developing the design standard required by the legislation – CEN466 Circular Design of Fishing & Aquaculture Gear – is this fit for purpose? What should be included?
How to set up an EPR Scheme for the industry.
What form will the reporting take, and how will it be calculated?
Blog Originally Posted in June 2021:
Bord Iascaigh Mhara recently organised a webinar to discuss the implications of the EU Single-Use Plastics Directive which comes into being on 3rd July 2021.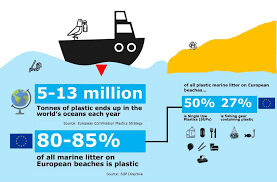 The Directive will have implications for anyone manufacturing, supplying or using plastic or composite (including plastic) equipment in the fishing and aquaculture sectors. It has come out of a need to address the issue of plastic waste polluting the marine environment. According to the Directive;
80 to 85 % of marine litter, measured as beach litter counts, is plastic, with single-use plastic items representing 50 % and fishing-related items representing 27 % of the total
As a means of tackling this problem the Single-Use Plastic Directive (SUPD) (EU) 2019/904 is being phased in over the next 3 years with the aim of moving from a linear to a circular business model. That means moving from the practice of using plastic products (like cups, straws etc) and disposing of them to landfill, to a system where recycling of old or 'retired'  products is built into the intended life cycle of the product. The deadline for the requirements of the Directive to be put into place is December 2024.
The Directive allows for the creation of an Extended Producer Responsibility Scheme (EPR Scheme).
As plastic components of fishing gear have high recycling potential, Member States should, in line with the polluter-pays principle, introduce extended producer responsibility for fishing gear and components of fishing gear containing plastic to ensure separate collection of waste fishing gear and to finance environmentally sound waste management of waste fishing gear, in particular recycling.
A number of similar schemes are already in place for other items such as tyres, batteries and farm plastics. Liam Moloney of the IFFPG who are the body who oversea the EPR Scheme for farm plastics gave a short presentation to the webinar on how the scheme operates within that industry. The Board of this group is made up of farmers, producers, manufacturers and representatives from the IFA. It is proposed that under the legislation a similar body would be created from the relevant groups in the Fishing and Aquaculture Sectors to oversee an EPR Scheme for our Industry.
In 2019 BIM commissioned a report to assess the feasibility of recycling redundant oyster bags in Ireland or abroad. A lot of effort was made by the authors of that report to investigate all possible ways to re-use or recycle the bags and at the time of publishing the results there was no clear path to recycling available. A lot of that was due to lack of volume; there simply were not enough bags to make it economically viable for a commercial entity to be interested in them.
Article 3.4

'fishing gear' means any item or piece of equipment that is used in fishing or aquaculture to target, capture or rear marine biological resources or that is floating on the sea surface, and is deployed with the objective of attracting and capturing or of rearing such marine biological resources.
With the remit of this Directive including not just oyster bags but all 'fishing gear' we may now be getting to a point where a viable critical mass is achieved and commercial interest is piqued to provide.
So what is the intended purpose of all this additional cost and effort?
The EU's intention is laudable and one that we naturally endorse:
Member States shall take the necessary measures to achieve an ambitious and sustained reduction in the consumption of the single-use plastic products listed in Part A of the Annex, in line with the overall objectives of the Union's waste policy, in particular waste prevention, leading to a substantial reversal of increasing consumption trends.
And this will be achieved by recording and reporting annually the amounts of plastic gear that is put onto the market, and retired from use. This data will allow the Member States to set targets for the industry to meet in terms of reduction of usage of plastics. However, it's a long way between here and there and a lot of work will need to be done to achieve meaningful buy-in from the industry, set up the EPR Scheme and get those recording systems up and running.
We'll be following the industry response to the Directive closely and will post updates on our blog as developments occur.