GUY COTTEN | Chinook | Oilskin Smock Tops
The latest Guy Cotten smock top we are stocking is this Chinook Hooded Smock.
The Chinook is a light and completely waterproof smock made from supple Glentex material. Glentex is a jersey material with PVC coating on one side.
All seams feature high-frequency welding to ensure total waterproofing.
Designed for professional or hobby use in fishing, aquaculture and cleaning.
Available in sizes: XS – S – M – L – XL – XXL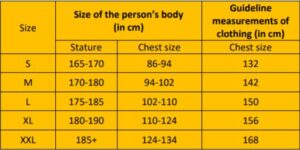 Specifications:
Waterproof neoprene cuffs to ensure drips don't run up your arms.
Hood with adjustable visor and elastic drawstring.
Chest pocket with self-grip flap.
Eyelet for moisture to escape.
Waterproof zip-fastening gusset at the neck.
A full selection of pull ups in stocks can be viewed here.
Dark Yellow / Black. Sold individually. Place your order now.