Description
Available to purchase as part of a mixed-pallet.
The MINO Bag is one of the smallest in the Guy Cotten range of sailing and kit bags. It has the volume of a sports bag making it ideal for marine activites.
It is very tough and can be easily wiped down to clean.
The MINO bag is semi-waterproof with Velcro covering the zipper. Zipped side pocket. Adjustable and removable shoulder strap. Smooth bottom.
Size is 29 cm x 49 cm with approximately 40 liters capacity.
The MINO is made of thick Ferrasac fabric which has excellent waterproofing qualities.
Available in a range of colour combinations: orange/black, yellow/grey, blue, black, red/white.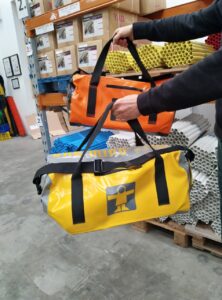 Leave a review for this product.