Description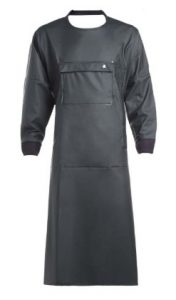 The Delphis Work Apron with Sleeves from North Ways is made of 50% polyurethene and 50% PVC for a great comfortable and waterproof finish.
The full sleeves finish in a neoprene cuff ensuring no splashes from liquids while you work. The apron gives full coverage of your shoulders as well as coming well around to the back to protect your sides. The neck and waist are elasticated to give a comfortable fit.
The stomach area features reinforcement to increase durability against nicks and scrapes. There is one front pocket with flap and two side pockets.
Two sizes. Size 1 fits S/M/L and Size 2 fitting XL/XXL.
The Delphis apron with sleeves is available in marine blue or olive green.