Description
Box of 1000 Plastic Oyster Bag Hooks | Suitable for all mesh sizes
Can be ordered as part of a mixed pallet OR 72 boxes p/pallet
The V3 BreizHook is suitable for use with all size oyster bags.
Designed from a tough, high-performance material, these specially designed french marine hooks are UV-treated. They are intended for holding or closing pockets, and are compatible with all mesh sizes.
The hook is inclined with a closed loop and can be used with all kinds of rubbers.
Currently available in blue. Other colours available when making an order of 10+ boxes, please contact us to discuss.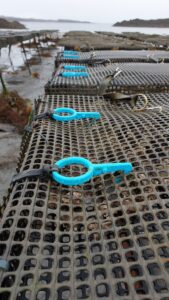 A full selection of our marine hooks can be found in Oyster Bag Accessories and a discussion of the pros and cons for each hook available is on our blog.
Leave a review for this product.