A new study by Bord Iascaigh Mhara (BIM) has found that Irish produced seafood is among the lowest carbon food produced in Ireland. This study provides the Irish seafood sector with access to reliable data for the first time. It identifies areas for targeted strategies to help minimise the carbon emissions associated with the production of seafood.
The Carbon Footprint Report of the Irish Seafood Sector found that carbon emissions for the sector are just under 400,000 tonnes of CO2 – less than 2% of those produced in other key food sectors. This number includes the emissions for both farmed and wild caught seafood. Farmed mussels (rope grown), oysters and wild caught mackerel in particular have been shown to have very low carbon emissions.
This comprehensive study has taken almost two years to complete. Delivering the data required input from industry and other stakeholders. The findings of the report demonstrate how the sector is producing a beneficial , nutritious, and safe food with low environmental impacts." 

In fishing, fuel accounts for more than 90% of carbon emissions, while processing and transportation accounts for 10% of the emissions. Already, we are seeing transitions away from exclusively diesel-powered engines to hybrid vessels and alternative fuels are also being explored. Later this year BIM will produce a report under the Climate Action Plan 2023 on the role these alternative fuels may play in the future of the Irish seafood sector. We now have a great opportunity to reduce emissions even further.
Caroline Bocquel, BIM Chief Executive Officer.
Low Carbon Food
There is a huge effort being made by seafood producers to put sustainability at the centre of how they work and this study confirms that Irish seafood can generally be considered a 'low carbon food'.
Shellfish and seaweed aquaculture have exceptionally low carbon footprints The Greenhouse Gas (GHG) emissions for rope grown mussel, oyster and bottom grown mussel production are 107 kg CO2 eq./tonne, 235 kg CO2 eq./tonne and 824 kg CO2 eq./tonne respectively. Some research suggests that shellfish and seaweed aquaculture may even be considered to have a negative carbon footprint insofar as these species absorb more carbon than they release.
The authors of the report have looked at every step in the raising of seafood and considered the inputs to get as close to a real carbon footprint value as possible for each species. The footprint for trestle-grown oysters for example is below.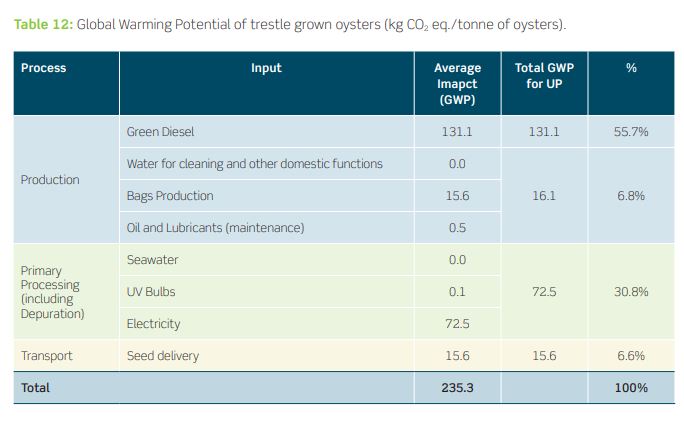 The Irish seafood sector is diverse, and the carbon footprint of different seafood products varies depending on the species in question and the methods used to cultivate or catch these species. This report looks at all inputs from 'cradle to farm gate' and also considers the emissions involved in transporting the produce to its final point of sale . It is sobering reading to see how little emissions there are in the growth of shellfish compared to transport to market.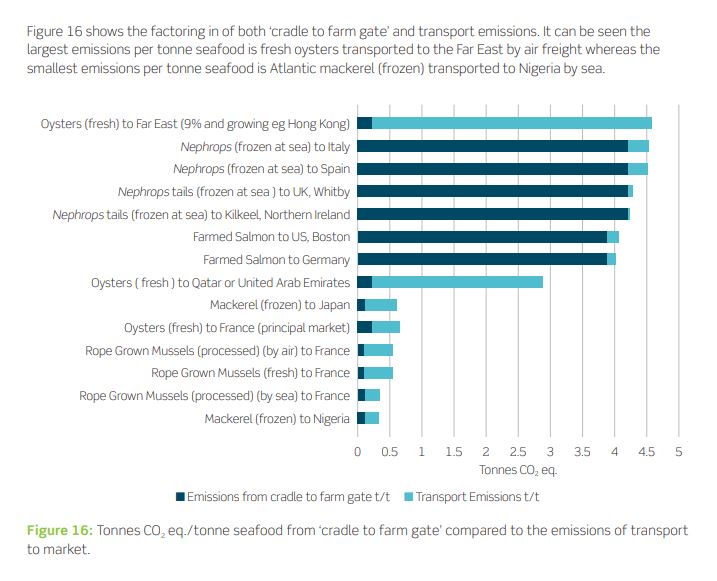 The level of detail in the report is very impressive and makes for very interesting reading. You can read the Full Report here.