We are often asked for advice from growers and fishermen who are buying or replacing their chest waders regarding the best way to store them, size them, clean them etc. Hopefully this blog will address all those questions for you!
Can you wash your waterproof waders?
Yes, definitely. We would recommend hand washing your waders with a regular hand soap in cold or lukewarm water with a cloth or rag. Don't scrub too hard, a gentle rub down should remove most of the soiling and not affect the ability of the waterproof fabric to repel water. If you are washing the waders using saltwater, then make sure to do a final rinse with fresh water as saltwater can be quite corrosive over time on the fabric. Rinse the mud off the boots too, if left to dry it can cause the soles to become hard and crack.
What about washing neoprene chest waders?
Neoprene chest waders can be put through a washing machine on a delicates cycle using cold water, close all zips and velcro first to reduce pressure points. If hand washing, then they are treated in the same way as regular waterproof waders. Check carefully that all the soap residue has been rinsed off before hanging them to air dry. They cannot go through the tumble drier.
What is the best way to store chest waders?
Before you store them always make sure they are completely dry on the inside. If mildew sets in on the fabric it is unpleasant to smell and has a negative impact on the waterproofing on your waders.
Ideally you would hang your waders where air can circulate all around them, for example with the suspenders over a hanger. With breathable fabrics you don't need to worry about hanging them upside down but with neoprene waders it is important to make sure that the boots are dried out and sometimes this can mean hooking the boots on pegs so that they 'drain down'.
If they are very wet on the inside it is advisable to turn them inside out first to get the inside dry, there is no joy in pulling on a wet pair of waders in the morning! It's a good idea when hanging your waders to keep the boots on the floor so that the weight of them hanging doesn't stretch out the fabric.
If you are storing your waders for a couple of days either lie them flat or roll them up. Folding them causes stress lines to appear on the creases and this affects the waterproofing over time. Leave them somewhere dry and out of direct sunlight as the UV light is not good for the fabric.
Which are better: hip waders or chest waders?
In an ideal world you wouldn't have to choose one or the other but would have a pair of each to choose from depending on the task at hand. Realistically though your environment and your budget will generally make the decision for you.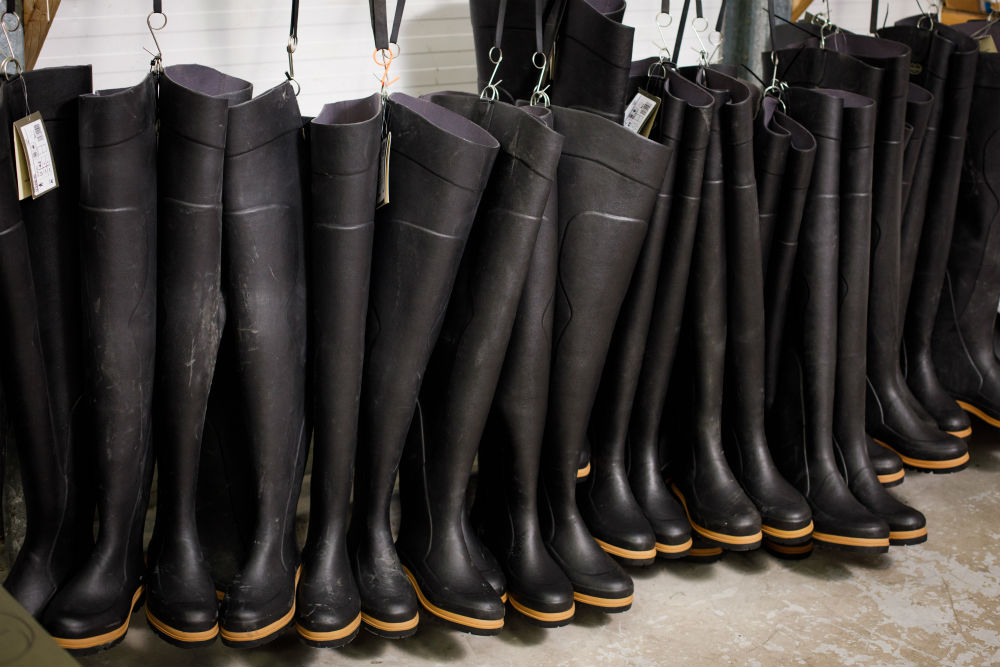 Essentially hip waders are wellies that go up to your hip. A good quality pair will stay upright on their own but thinner versions will come with straps to hook onto your belt. Hip waders are perfect for low tide work and are very easy to slip on and off. Boot jacks are available to help hook them off your ankles. If you plan to stay in water not higher than your thigh then hip waders are all you'll need.
Chest Waders go up to the chest and allow you to go into much deeper water. If you are unsure about the depth of water you will be in, or if you are working with tides, then these can leave you better prepared for the unexpected. They can also double as waterproofs if you are working in wet weather. Popular to wear with chest waders is a wader belt. It can be useful to stop splashes getting into your waders, particularly if you lose your footing and there is a danger of excess amounts of water getting in and weighing you down. Some wader belts also offer lumbar support which is so important particularly for growers repeatedly bending over trestles.
How do you measure for chest waders?
The three most important measurements when buying chest waders are:
Your shoe size
Your girth around your chest
Your height in your stocking feet from floor to under your arm
Choose your waders first on how the boots fit. Waders are made to be worn loose around the body, so the important thing is not to have a snug fit. You should be able to raise your knee up to your chest without feeling a pull at your back. Similarly, you should be able to kneel or bend without the waders feeling stretched. If they are not fitting loosely then you will be putting pressure on the seams which will ultimately impact on their waterproofing.
See the wader & chest wader sizing guide on our website for a list of comparative sizes.
Choosing your fabric
Neoprene waders are designed to fit a little more closely than other waterproof materials as the synthetic rubber  material is rather bulky. It stretches quite well and is good for cushioning. It is also a warm material to wear so is good particularly in cold weather. It is not a breathable fabric which means that if water (or sweat) gets in, then that moisture does not evaporate.
There are a range of breathable fabrics available depending on the manufacturer. Generally, they are more lightweight and less bulky to wear than neoprene, however this can mean that they are easier to snag and tear. The lighter material means that they are not as suited to cold weather, however the wider fit does allow you to layer up under them.
In our own experience natural rubber is the longest lasting material used, the thickness of the material means that it is reasonably warm and doesn't snag easily. On the downside however it is heavy, and if being worn all day this can become a consideration.
Consider the seam
From a durability point of view both chest and hip waders made from one piece are most likely to last. Where a wader is composed of wellies with material attached then the seaming to connect the two is a point of stress. Over time that constant pressure on the seam can lead to a weakening and leaks can appear. For this reason when buying chest waders made up of multiple pieces particular attention should be paid to the finishing and to the quality of the seaming to ensure they remain waterproof.
---