BreizhClips | Oyster Bag Hooks
Our BreizhClips have been manufactured and tested on site in France and are now available in Ireland exclusively through Triskell Seafood! They are produced by the same company who manufacture the popular range of Breizh Hooks which many of you are using on site. The clips are made form the same sturdy and bright material, and to the same high standards.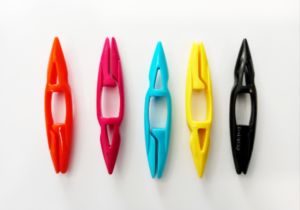 Slide your band over the clip and then thread it through your oyster bag mesh to securely close your bag or attach it to the trestle.
One of the things we most love about these clips is that they completely remove the need for using cable ties to secure your bags! So you can cut down on both your costs and and your plastic waste.
They can be used with any mesh size bag or band. The simple design allows the band to sit flat on the clip thereby spreading the stress on the bands. So you have less wear and tear on your bands.
Specifications:
UV-treated
Bright colours means the clip stand out on shore
Quick & easy to use
Boxes of clips are available in a range of colours; choose from yellow, black, blue, red or orange.
A full selection of the range of hooks we stock can be viewed here.