Christmas, a very good time to enjoy oysters!
In our opinion it's always a good time to eat oysters but in France oysters are particularly associated with holiday feasts. Some statistics suggest that up to 50% of the country's annual consumption of oysters happens between Christmas Eve and New Year's!
Traditionally that would have been down to seasonality, oysters being at their peak during the colder months (months without an R) with a 'sweet' flavour thanks to the glycogen that they store for energy during this period.
This New Year's no French celebration will be complete without a plate of fresh plump oysters, enjoyed straight off the shell with a glass of crisp white wine.
Why not try this classic recipe for Mignonette Sauce and ring in the New Year like a Frenchman!
Oysters with Mignonette Sauce Recipe
1 shallot (small, finely chopped)
60ml white/red wine vinegar
2 teaspoons lemon juice
2 teaspoons granulated sugar (optional)
1 teaspoon fresh chives (finely chopped)
60 oysters (on the half shell)
In a small saucepan, combine the chopped shallot, vinegar, lemon juice and sugar.
Stir over a low heat for 2-3 mins, until the sugar dissolves.
Let the sauce cool before adding the chives.
Drizzle over the oysters.
Enjoy!
In America there is a tradition of Oyster Stew being enjoyed on Christmas Eve which is thought to owe its origins to Irish settlers in the 1800's. The vast majority of these settlers would have been Catholic and for religious reasons would abstain from eating meat on Christmas Eve. (This is still the case for Ash Wednesday, Good Friday and Stephens Day for a lot of Catholics) Instead they would make up a fish stew with milk and butter, and a dried salted fish called Ling that is similar to cod.
As ling was not available in America but oysters were in plentiful supply, they were used in the Christmas Eve stew and this is still the recipe enjoyed today.
This simple recipe for Oyster Stew comes from www.shewearsmanyhats.com and can be whipped up quickly and easily.
Oyster Stew Recipe
4 tablespoons butter
1 large onion, finely diced
2 garlic cloves, crushed
1/4 teaspoon red pepper
1/4 teaspoon paprika
1/4 teaspoon salt
1/2 teaspoon ground black pepper
4l whole milk or half and half (milk & water)
1 teaspoon dried parsley
500g fresh raw oysters, undrained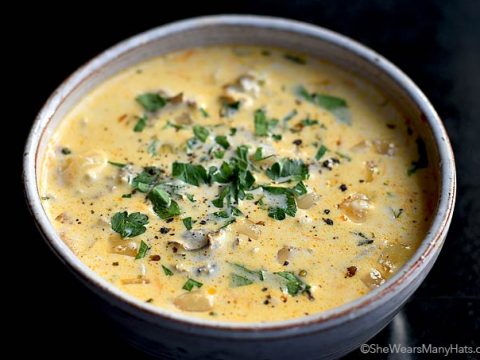 Heat the butter over a medium heat in a heavy bottom saucepan. Add the diced onion and sauté until tender, about 5 minutes. Grate in garlic and continue to sauté for another 1-2 minutes, being watchful to not burn the garlic. Add red pepper, paprika, salt, black pepper, stir to toast for about 1 minute. 
Drain oysters and reserve liquid.
Reduce heat to low, add milk, parsley and oyster liqueur.
Cook over low heat until mixture is hot and beginning to steam, and bubbles just start to appear around the edge. Do NOT allow to come to a boil. Salt and pepper to taste.
Add oysters and continue to cook over low heat until oysters begin to curl at their edges.
Again, because oysters were in such plentiful supply oyster stuffing became a popular addition to the Thanksgiving table. Indeed, a Department of Fish and Wildlife America from the American Fish and Wildlife Service (shared by www.mentalfloss.com) dating to 1954 claims that this particular dish was served at the original Thanksgiving meal in 1621 and goes on to list a number of oyster recipes to be tried and enjoyed.
Oyster Stuffing Recipe
(from (www.tasteofhome.com)
1 celery stick, chopped
1 small onion, chopped
50g butter, cubed
2 tbsp chopped fresh parsley
1/4 tsp Italian seasoning
1/8 tsp sage
1/8 tsp pepper
375g stale bread, cubed
1 large egg, beaten
150ml chicken stock
225g shucked oysters, drained and coarsely chopped
In a small skillet, sauté celery and onion in butter until tender; transfer to a large bowl.
Stir in the parsley, Italian seasoning, sage and pepper. Add bread cubes.
Combine the egg, stock and oysters; add to bread mixture, stirring gently to combine.
Transfer to a greased baking dish. Cover and bake at 180° for 20 minutes.
Uncover; bake 10-15 minutes longer or until a thermometer reads 70° and stuffing is lightly browned.
So, this Christmas why not try something different and include oysters in your Christmas Dinner. Try one of our delicious oyster recipes, they're in season right now, tasty, sustainable and fabulously versatile.
Bon appetit!