Irish Aquaculture output value grows 2% in 2021.
Increase in National output largely driven by the shellfish segment.
BIM's Annual Aquaculture Report provides a snapshot of Ireland's Aquaculture Sector. It includes statistics on production, price and employment in the primary sectors of the Industry in 2021 based on their annual National Seafood Survey of all licensed aquaculture producers.
The year 2020 was one of delays, set backs and unprecedented disruption due to the onset of Covid-19 . Therefore this report focuses on the performance of the sector in 2021 and compares with that of 2019, rather than 2020. Pre and post pandemic lockdown production periods are therefore compared in order to make a fair performance comparison within normal trading conditions.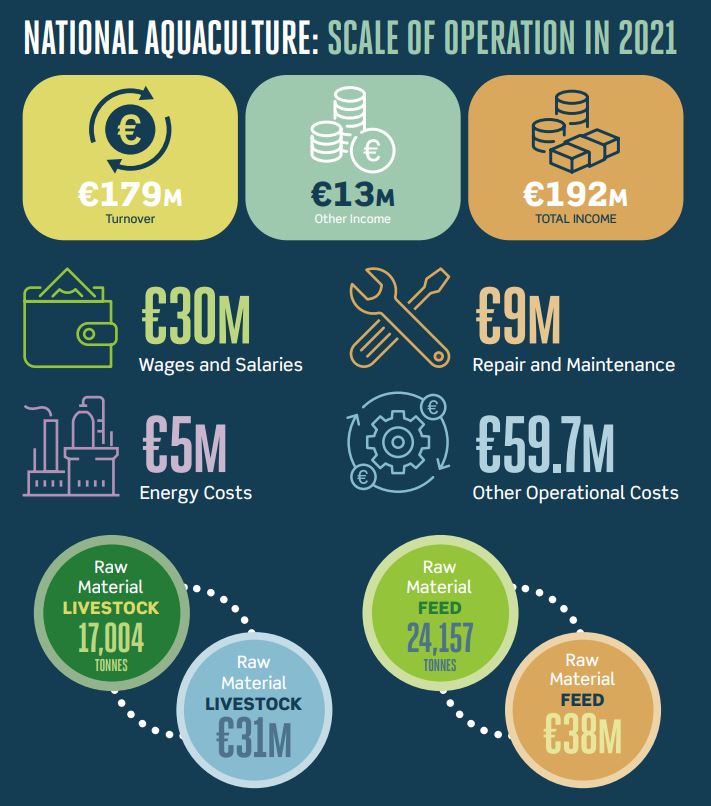 Increase to Output Volume
By the end of 2021 the Aquaculture Sector had largely recovered from the twin effects of Covid-19 and Brexit. Output volume in 2021 was 42,812 tonnes, up 11.8% on the 2019 pre-lockdown output of 37,922 tonnes. The national output growth trend was largely driven by the shellfish segments. Output value in 2021 was €178.9 million, up 2% on the 2019 output value of €175.3 million.
Rising Costs
Profitability was significantly impacted by increasing costs, in particular for stock input and feed costs. Gross Value Added (GVA) to the economy was down -33% to €87 million (provisional) in 2021 compared to €128.9 in 2019. In 2021, net profitability for the sector was estimated to be a marginal €800,000 compared to a value of €32.1 million in 2019.
Strong Recovery
2021 was a year of strong output recovery as well as business expansion for the aquaculture sector and particularly for the shellfish sector. Employment numbers have more or less returned to pre pandemic levels and looking ahead, employment is expected to increase in addition to a recovery in unit sales values.