Traditionally seen as a male-dominated industry, oyster farming, and the broader aquaculture industry, is embracing change. These days more and more women are drawn to the industry, and the potential offered by following a non-traditional career path. We spoke to 3 generations of women who have chosen to make a career in aquaculture to see what brought them to oysters in the first place and where they see their career, and the wider industry, going in the future.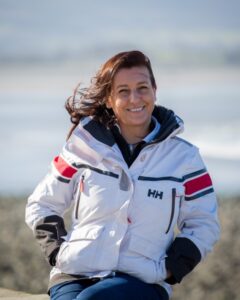 Our own Director Marie-Aude Danguy, has long been seen as a trailblazer for women in the industry. Since setting up Triskell Seafood to trade shellfish across Europe in the early 1990's she has been regularly interviewed in print and on radio in Ireland and abroad. That attention has highlighted for her the importance of giving recognition to some of the other ladies currently working in Ireland.
Shellfish farming offers a wide variety of roles beyond the unarguably manual work onsite, and increasingly we are seeing new processes and equipment which bit by bit reduces the hardest graft involved. Second and third generation farmers are entering the workplace and they are adopting new technologies to streamline production. Marketing and travel have never been as important for targeting new marketplaces. Roles are opening up in adjacent industries like veterinary, legislation, laboratory work and in government bodies. All of these strands combine to make this an attractive industry for women to carve out successful careers. Marie-Aude believes that in the future we will see more and more women entering Aquaculture.
The three women we spoke to all share a positive outlook for their future working in aquaculture with a common interest in sustainable farming, the importance of family in business and genuine passion for what they do.
The Newcomer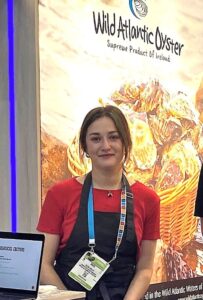 Who you are – what you do?
My name is Elsa Kelly and I am the Marketing and Sales manager for Wild Atlantic Oyster.
How did you get into the aquaculture industry?
My background is in Arts & Festival Management and I was working in Glasgow and Edinburgh before Covid kicked in. The Arts industry was the first to go, and the last to start up again so when this position became available I thought why not give it a go. My Dad Charlie has been working in the shellfish industry for 34 years and has a wealth of knowledge and experience to share with us. My two brothers and younger sister are also involved in the business so it's a real family affair!
Can you describe a typical day at work (if there is such a thing!)?
Day to day my job changes a lot. I have responsibility for CRM, Orders, Health & Safety, Logistics, Stock-taking, and Sustainability. I also travel a good bit, going to see customers or to Industry events. So there's that nice aspect to it where I get to travel a bit. I recently travelled to France with BIM to meet growers around the Île d'Oléron to look at how Ireland can develop an Irish brand for the oysters we export.
According to figures published by BIM for 2018 only 30% of the oysters sold that year were packed and branded as Irish. The rest were all ultimately re-branded. This is an Irish product that we should be proud of, and get recognition for. That's something I'm really focusing on, it's one of my goals in this job to develop that.
What do you like the most about your role / the industry?
I love that it is so diverse, no two days are the same. I look to the future and I see that things are changing, watching the industry change and adapt to the modern world. The younger generation is less about keeping a map in their head of their farm, they're using apps to help them. My sister is working with an Australian app at the moment that will map the farm, it will tell you when to shake, what age the oysters are, what you have in stock at any time.
Do you have any memorable experience in your career?
I've only been in it for the past couple of years, I've attended lots of oyster packers meetings, travelled abroad a couple of times, I went to SEG (Seafood Expo Global) Barcelona in 2022. We had a stand on the Bord Bia Pavilion, it was fascinating to see the scale of things. It opened my eyes up to the industry itself, it was heart-warming to see how connected everyone was in the oyster industry and how, particularly in Ireland, everyone is there to help one another out.
Bord Bia are a great support system for us because they have people in so many different countries, particularly in Asia. We export about 90% of our stock to Asia and they have people there to help us with that. I work a lot with BIM as well, particularly through their Taste The Atlantic program. We're hoping to do something with tourism in the future and they're helping us a lot with that too.  It's great to have those support systems in place.
What would you consider being the key issue facing the industry at the moment?
Probably the same issue that is facing every industry at the moment – the energy crisis has really affected us. We use a lot of electricity purifying our oysters, especially through the winter, those tanks are running all week. There's also the cost of supplies, those costs just keep going up, for instance the poly-boxes that we ship our oysters in have really gone up in price. We've had no choice but to pass those costs on to the customer. That has been one issue.
The other issue is enforcing the Irish brand as I mentioned before. I think that is improving, I was part of an Industry Panel discussion a month ago and we spoke about how the brand needs more recognition. The quality of the Irish Oyster is probably the best in the world so hopefully the younger generation will improve on this and be really proud of the product.
It is a very male dominated industry, has this ever been challenging?
No doubt about it that it is a male-dominated industry, you go to any farm in Ireland and you can see that is the case however it has not been challenging for me in my role. My role doesn't really involve heavy lifting and is mainly office-based. From my perspective there haven't been any challenges. There are a lot more women involved in the industry I'm delighted to see that. I'm also delighted that my younger sister Hannah is joining me! She is going to take over as Production Manager and I'm really excited to be able to work beside her in the years to come.
What advice would you give to women looking to start a career in aquaculture?
It's hard for me to give advice as I'm more on the paperwork side but I would say to any woman looking to join the Aquaculture industry should give it a go, if you don't give it a go, you'll never know! There are so many different career paths as well and I think sometimes people just see the heavy lifting and that puts them off but there are so many opportunities. There are great supports in place as well with Bord Bia and BIM.
I love the lifestyle, the feel good factor of farming in such a sustainable way and producing such a delicious, healthy and sustainable product. It really makes you feel good about what you do. I think Irish people need to change our attitude to shellfish, all these products are right on our doorstep and are so good for our health and well-being.
The Ninja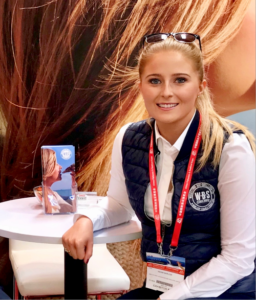 Who you are – what you do?
My name is Naomi Barlow and I am the eldest daughter of Paul & Carolyn Barlow, the founders of Woodstown Bay Shellfish Ltd (WBS). WBS own and operate one of the largest oyster farms in Ireland and the company produce a large percentage of the oyster exports from Ireland to international markets overseas. I started working in the family business straight out of school at 17 and completed my Business Degree and later my MBA in International Business part-time while continuously working. My title is Director of Operations, however my main focus is International Sales and Business Development.
How did you get into the aquaculture industry?
I come from a very entrepreneurial family. My great grandfather Matt Barlow was one of the Engineers who built the Hydro-Electric Generating Plant at Ardnacrusha on the River Shannon, considered the largest hydro-plant in the world at the time. The success of the station attracted international interest with the American Institute of Electrical Engineers identifying the project as a milestone of twentieth-century engineering, while the American Society of Civil Engineers named the site an International Historic Engineering Landmark.
Following on in his father's footsteps my paternal grandfather Con Barlow was a Marine Engineer, and after many years of working at sea eventually settled in Dunmore East. My grandfather Con actually ran his engineering business "Barlow Marine Engineers" from the same site as we operate in Dunmore East Harbour today. After his family settled in Dunmore East, my father Paul Barlow helped with running the family pub before heading to sea. My father worked in the commercial fishing sector for many years, before returning to establish one of his first businesses 'Mono Marine' manufacturing fishing nets in Japan for sale to the Irish fishing sector. Some years later my parents Paul & Carolyn Barlow set up Woodstown Bay Shellfish Ltd. WBS was originally established to be a large producer of pacific oysters for export to the French market.
I started working in WBS after leaving school at 17. I was very driven and ambitious and eager to get into the business. I worked side by side with my father for many years and was given countless unique opportunities for learning which have been invaluable in my career thus far.
Myself and my two siblings Gavin and Carleena all work in the family business today, along with my mother and father who also continue to be involved. My brother Gavin is an Engineer and winner of the National Skills competition in his field and my younger sister Carleena has a degree in AquaBusiness and works in the production side of the business.
Can you describe a typical day at work (if there is such a thing!)?
There is no such thing! Oyster farming, like most other business, is just daily problem solving. However, I will say, the problems are for sure getting bigger and more challenging over recent years. I could be in waders on the oyster farm today and on a flight to meet a customer in Shanghai tomorrow. Our joke here is everything is "subject to change". Adaptability is a very important trait to possess in the aquaculture industry.
Do you have any particular work values / ethics close to your heart?
Yes 100%. Sustainability and Water Quality. We work very closely with local environmental groups and conservationists in an effort to protect the important water bodies in which we work. I would like to see some modernisation of the EU Water Framework Directive, with stronger safeguards put in place to ensure the survival of the marine ecosystems for years to come.
As an aquaculture producer we rely so heavily on nature and the surrounding marine environment. We have the greatest respect for the environment in which we work and regularly complete beach clean-ups in Woodstown to keep our local beach clean and free of litter and any marine debris that may wash in with the tide. This is a massive commitment from our family business, involving up to 60 man-hours per week as all our staff are involved. We would love to see other aquaculture producers also making this big a commitment and ensuring our beaches are kept the way nature intended.
What do you like the most about your role / the industry?
My favourite part of my job is the fact that I get to work with my family and as a result we all have the pleasure of living in the beautiful village of Dunmore East. It can be difficult to work locally when you're from a small coastal village and emigration is very high with young people in our area as a result. So, my siblings and I are very grateful to be able to earn a living locally.
Do you have any memorable experiences in your career?
In 2004 our family accepted delivery of the MFV Creadan Lady. This was a massive moment for our family. The Creadan Lady was the very first new mussel fishing vessel built for Ireland. The day she arrived in Dunmore East from Holland was a big day for our family.
In 2017 we made the transition from being a large wholesaler of oysters to the European market, to creating our own branded oyster products to be sold internationally. A memorable experience of mine is creating this new brand and the accompanying market research trips to Hong Kong and China. Within twelve months we had successfully managed to sell 100% of our oyster production under our own value-added WBS brand name which was a massive achievement.
What would you consider being the key issue facing the industry at the moment?
The aquaculture industry has been massively impacted by the COVID-19 pandemic. I have been campaigning to both to our Minister and Europe over the last 3 years for financial support to be provided to the sector. Aquaculture producers were some of the worst sectors impacted by the pandemic (as acknowledged by the EU PECH Committee). While others businesses closed their doors during the government imposed lock down, as farmers we needed to continuously work the oysters and incur massive operational costs while there were no export markets open and we had zero income as a result. The impacts of the COVID pandemic will be felt by the industry for many years to come.
There is a massive disconnect between producers and the Government/ DAFM. There is a huge need for DAFM to have better working relationships with producers and operate in a manner that is conducive to growth. Support is badly needed by the sector and DAFM need to acknowledge the struggles of the industry.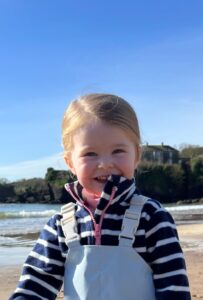 Another issue facing the sector is the lack of enforcement of EU Directives by the regulators. Development cannot continue to come at the cost of the environment and the Government needs to act before it is too late. I would like to see directives like the Water Framework Directive being properly enforced and important water bodies being protected. I had my first daughter (Sophie), just two years ago and this has only further encouraged me to continue to campaign for the protection of our environment.
It is a very male dominated industry, has this ever been challenging?
To be honest I have never found it challenging being a female in the sector. I have always been very encouraged and supported by the males in my family and male colleagues in the sector. I feel you get back what you put out and when you are knowledgeable and a professional, that tends to be what you get back from those you work with.
What advice would you give to women looking to start a career in aquaculture?
Being female has nothing to do with it. If you find the industry interesting, you are hard-working and like being challenged daily give it a go, back yourself! However I will say that overnight success is not possible in this industry, these are all traditional businesses that take generations to build. We are merely gatekeepers for the next generation. My hope for the future is that we can hand over the reins with both the business and the environment in a better position than we received it in.
The Doyenne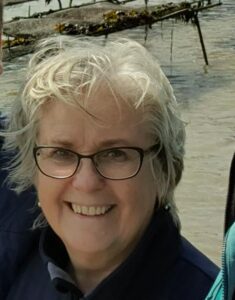 Who you are – what you do?
My name is Cliona Mhic Giolla Chuda and I am a Director of Waterford Oysters and one of the owners of Bia Mara (Déise) Teo. I am an Oyster Farmer, Manager and Exporter
How did you get into the aquaculture industry?
I did various part-time jobs while raising my family. In 1987 Udaras na Gaeltachta was offering an oyster farming course and helping to set up pilot projects in the Ring area of Dungarvan, Co Wexford. I signed up and applied for a licence to set up a farm. I started farming oysters myself in 1993 and over the next few years ended up taking over a number of other small local farms as they became available.
As the industry was just beginning here in An Rinn, a company was set up to provide facilities for local oyster farmers including a building for grading, as well as centralised sales and invoicing. This company was called Meitheal Tra na Rinne Teo. I began working with them in 1995 along with Michael Burke of Bia Mara. In the late 1990's, there were some changes happening in Bia Mara and in 1998 we decided to merge my business with Bia Mara – Seán and Michael Burke and myself became the owners of the merged companies.
Following that I spent more time in the office and less on the shore, I studied at home to become a fully qualified accountant in 2000 but I still love the opportunity to go out on the shore from time to time!
Can you describe a typical day at work (if there is such a thing!)?
There is no typical day in the industry, and I like that every day is different. Although I must admit it is not an industry for the faint-hearted!  There are constantly market fluctuations and the risk of mortalities. It is so unpredictable! The connection to the sea is a big plus for me though, I really enjoy that.
Do you have any memorable experiences in your career?
I remember the challenging days when France was the main market and very few clients had English, of course that has all changed now. I remember a crisis in the industry in the 90's when a glut of oysters were produced and sold at very, very low prices. How things have changed now with new and different markets opening up in Asia. We deal with China and Hong Kong these days. I have loved meeting lots of great people in the industry across the world.
I have always been heavily invested in the business and am delighted to say that things came good. But you need to commit long term as the cycle of oysters from seed to market size is 3 to 4 years, you can't be in this business for a quick turn-around.
It is a very male dominated industry, has this ever been challenging?
Being a woman has never been an issue, I am proud to be a woman in this very male orientated business and feel I have always been treated with respect.  Except once maybe. When I originally applied for an overdraft with the local bank, I went in very well prepared with a proper business plan and felt I did a good interview. The (male) bank manager asked me whether my brother would give me a hand at farming……. I felt very deflated that I would not be trusted to be able to run the farm on my own, and I was refused the overdraft. Subsequently, I went to another bank where a (female) manager approved the overdraft!
There is no doubt that oyster farming is physical and that at times men can cope better with the heavy lifting than women but there are some women working in the industry and they are doing a really good job!
What would you consider being the key issue facing the industry at the moment?
The main issue I can clearly identify at the moment is recruiting staff; it has never been this difficult, to the point that there is possibly a risk that the industry will actually contract as a result. It is a more general issue, linked to the cost of accommodation in Ireland but where is this going?  The production of food in Ireland is essential so something needs to be done.
I would like to see more innovation in software; specifically software developed for the oyster industry.
Licensing (has improved) but a 10 year licence is still too short considering the 3 to 4 year life cycle of an oyster.  We need more flexibility in the licences to allow for dealing with live animals and to allow us to make changes in the configuration of our farms.
What advice would you give to women looking to start a career in aquaculture?
I don't have any particular advice to give to a woman interested in joining aquaculture.  Like everything in life, follow your instinct, if it feels right for you, go for it.   The first step is always the hardest… but just one thing, you must be resilient for this industry!