Description
Minimum order of 5 items apply.
In stock in the warehouse in sizes 39, 40 & 41.
These CHEST WADERS from PROS EXTREME are made of very strong new generation rubber giving them excellent waterproofing qualities. The PVC boots have been welded on and feature a non-slip sole.
High frequency welding ensures the strength of the seams.
Come with elasticated replaceable braces.
Available in sizes 5 – 11 (European 39 – 46).
These waders have a generous fit, check out these measurement guides before placing your order.
These chest wafers are extremely good value for money and are part of a range of entry-level fishing clothing we supply which includes waterproof clothing, hip and chest waders and more.
And new in 2022! PROS EXTREME Chest Waders are now available with frontal chest pocket in sizes 43/9 & 44/10.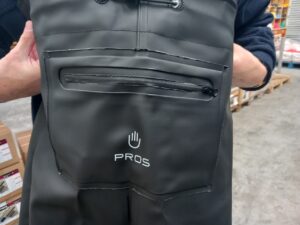 Learn how to choose and care for your waders in our blog!
Leave a review for this product.