Introducing the Ostrea Spin Flotation System
We are delighted to announce that Triskell Seafood are the sole Irish Distributors for the new Ostrea Spin system from French company OstréA'tlantic.
The unique design has been trialed successfully in France and is now available to buy here in Ireland.*
The set-up is essentially a 'barrel frame' which rotates around a central axis on your trestle. Floats attached to either side of the frame allow it to turn with the tide. The bands can also be used to temporarily restrict the barrel turning if required.
The barrels are tumbled 4 times in 24 hours based on the tidal cycle. Wave goodbye to backache. Gone are the seemingly endless days of lifting, shaking and turning your oyster bags by hand. The Ostréa Spin system will do all of that for you, and the robust aluminium design ensures a lifespan of up to 20 years!
The regular spinning forces the bags to open out and adopt the shape of the barrel allowing the oysters to tumble freely with the tide. Even without the use of a booster you get increased water flow through the bags. The constant movement knocks the frill off your oysters and ensures they develop stronger shells with a deeper cup shape, the meat quality is better too. The regular turning reduces the level of biofouling build-up on the bags therefore improving waterflow and food availability.
The system uses a standard oyster bag so stocking densities are the same as for tradition rack & bag layout with a max density of approximately 15kg per bag. Once the bags are emptied and removed from the barrels they will return to their usual flat shape allowing them to be stacked for storage.
What Is Required?
A standard trestle will hold 5 barrel frames. However, as the barrels rotate around a central axis on the trestle some alteration to your existing trestles would first be required in order to install the system. Alternatively we can arrange to have trestles made up to match the specific dimensions to allow the system to work. Full instructions are supplied with the system to allow you to put it together yourself should you prefer.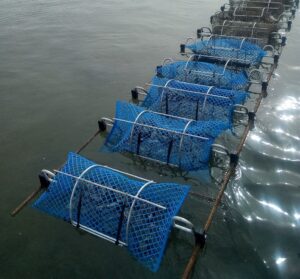 A full pallet will hold 45 barrel frames and fittings. We can guarantee that within a few months onsite you will see the benefits of the system. Both in terms of the freeing up of your time from laboriously turning bags all day, and in the improvement you will see in the growth of your oysters.
Call us today to discuss your order!
*further trials are still ongoing and, as the system is so new to the market, the manufacturers welcome feedback from growers as to potential changes amendments or modifications.