Description
Our Boat Platter creates an interesting table feature and makes an attractive alternative to the traditional seafood platter.
100% waterproof and re-useable boat with a removeable polypropylene insert which is recyclable.
Outer box is made of plywood and sports an attractive design in navy.
Boat is 57cm long and 23cm wide.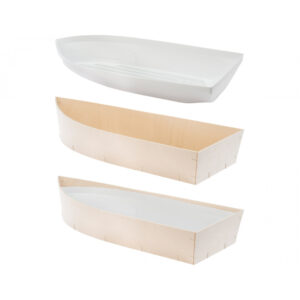 Possibility to customize the boat for bulk orders.
We stock a selection of seafood presentation products including oyster plates, polystyrene boats & platters as well as wooden boxes & baskets.
Leave a review for this product.